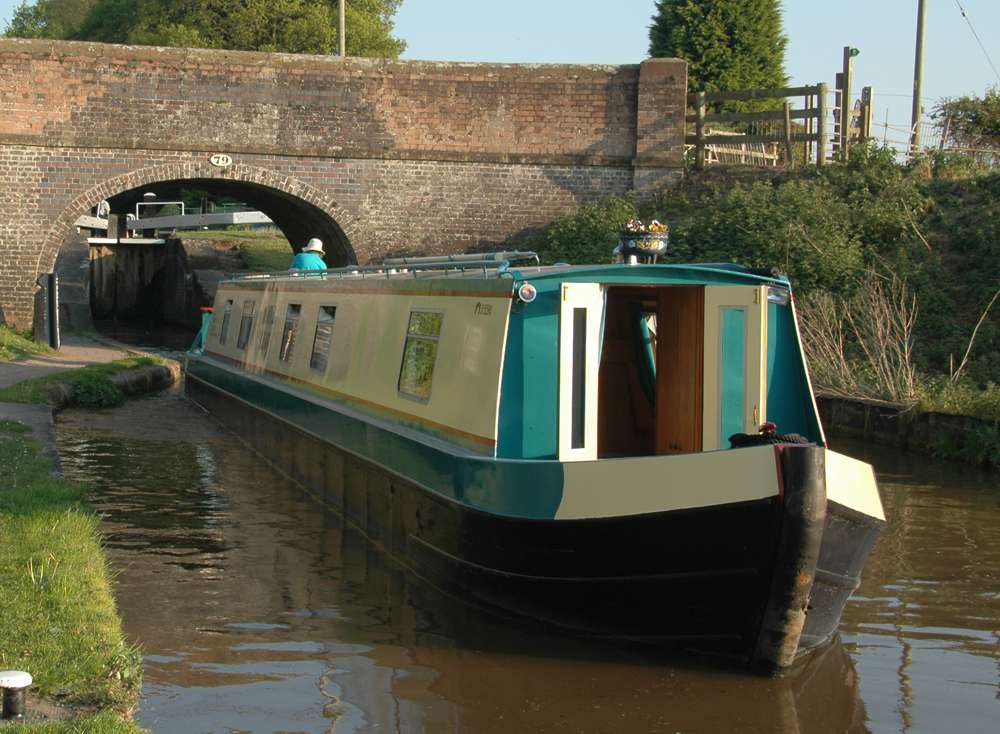 Your feedback and testimonials are really appreciated and we love to share your Cheshire Cat holiday comments!
Tim and Catherine on Witch Hazel, October 2022
---
Following on from our memorable experience on Southern Cross 'ticking over' to Llangollen in 2019, we waited throughout the Covid-19 years to return to Nantwich and Overwater Marina for our much-anticipated adventure on Witch Hazel in October 2022. It was worth the wait.
Cheshire is one of our favourite places in the UK, and you would be hard pressed to find better services than those provided by Linda and Mark at Cheshire Cat Narrowboats. Their fleet is exceptionally well maintained and their support and guidance was provided whenever we had questions in the long leadup to our departure, and certainly it was unparalleled once we were there.
We spent two weeks traversing parts of the Shropshire Union, the Middlewich Branch, the Trent & Mersey and the Bridgewater Canals, soaking up northwest Cheshire and thoroughly enjoying the unique experiences available to those that visit destinations like Manchester, Chester and Lymm via narrowboat, all enhanced by unforgettable nearby pubs on 12 of the 14 nights we were afloat. We will be back.
Tim and Catherine, Niagara-on-the-Lake, Canada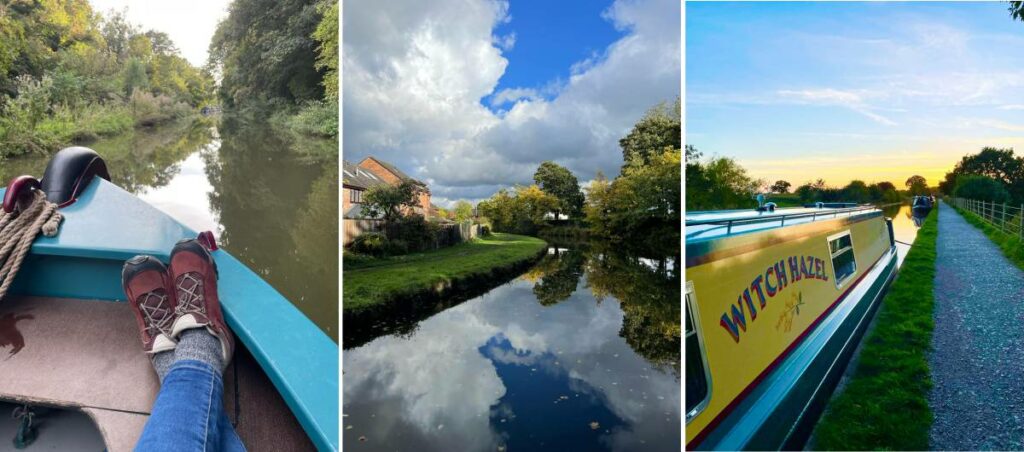 Jean on Holly Day
---
we would all like to say a big thank you ….
firstly for allowing us to wait another year due to sickness. But mostly for our amazing day on Holly Day. You were so friendly, welcoming and patient as we were complete beginners! We needn't have worried, the boat behaved beautifully. It was clean and had everything we needed for our special day.
We enjoyed the peace and serenity of the canal but also the friendly waves and comments ( and help !) from other boaters. Thank you again, we'll most definitely recommend Cheshire Cat and would really like to return!
Ginnette on Maple Leaf
---
We had a lovely week aboard  Maple Leaf.
We had an amazing time and loved your boats. I will definitely be in contact and will be recommending you to all my family and friends.
Margaret on Maple Leaf
---
We had a lovely week aboard  Maple Leaf.
We were very comfortable with everything we needed. Comfy beds too.
I meant to say what a lot of Kingfishers we saw on our journey flashing their blue feathers alongside the boat and posing on a twig on two occasions.
Below is a sunset picture taken on the Middlewich Branch.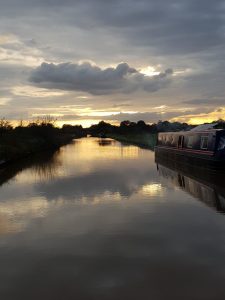 Graham, Sue and Martin on Witch Hazel
---
Dear Linda,
We would like to say a huge "thank you" to you and your team for a lovely holiday spent on Witch Hazel last week. The boat was superb and was prepared to a very high standard. It was a real pleasure to hire with you, and the service and communication we received were first class.
We wish you every success for the remainder of the season.
Rod on Holly Day
---
Just wanted to say a big thank you to you and your husband.
My Daughter Carly organised this day trip (Saturday 21-09-2019) for my 70th birthday treat.
Weather was good and we all had a good time, swapped the grandkids over lunchtime @Nantwich so they all had a ride. A busy day at the locks, plenty of boats waiting both ways but everyone mucked in and helped and told us what to do.
Nice to see people being friendly and not to busy rushing about in this modern world we live in now.
Totally shattered today, its very tiring but so enjoyable and seeing farm life and wildlife and the countryside right up close cant be beaten. A day I will remember.
Thank your Husband from me as his hand over was informative a very relaxed and friendly.
Nick & Rachael on Summer Breeze
---
Just to say what a great week we had on Summer Breeze last week we thoroughly enjoyed our travels.
The boat was equipped with everything we needed and was very comfortable.
It was a pleasure to meet you both at the Marina and also along the canal -4 times in all I think!
Next time we are looking to cruise in your vicinity we will have no hesitation in using Cheshire Cat.
Harold and Anne on Misty Dawn
---
As a family party of two parents, two grandparents and three children, none of whom had ever been on a narrow boat before, we're really pleased that we booked with Cheshire Cat. Linda's brisk and very useful introduction to both driving the boat and how to open and close the locks was invaluable – we encountered plenty of people who hadn't had proper guidance on lock-working, and made us appreciate that we had.
Misty Dawn was lovely, we were pretty lucky with the weather which helped, but I think Cheshire Cat was a great company to have now had our first boating experience with – very many thanks to both Linda and Mark.
Derek on Northern Lights
---
Well a great fortnight on "Nollie."
Would not have been possible without Cheshire Cats having the foresighted to rent to solo renters.
Gill and Ian Drew on Little Star
---
Thank you very much for the hire of Little Star, which enabled us to have a really fabulous and comfortable few days on the canal to Middlewich and beyond.
We were very fortunate with the weather, the scenery was spectacular and the eating places which you recommended lived up to every expectation. We shall certainly recommend Cheshire Cat to others wishing to explore the beautiful area.
From Olivia age 8 on Morning Cloud
---
Olivia's School Project Olivia's School Project.
Olivia's holiday left such a big impression she designed this little brochure on us for her school project.
From our guests on Littlestar – Aug 2016
---
Hi Linda and Mark, Just wanted to say a huge THANK YOU to you both.
Our holiday from the moment we turned up to the time we handed Little Star back was awesome.
The area is just beautiful and your little touches on the boat were very well received (After Eights didnt last long!!). We appreciate how you went out of your way to accommodate our dates due to hubby and his work.
We will most definitely be recommending you to friends and hopefully we will be back in a couple of years.
Thank You again. Clare, Adam and Isabelle
From our guests on Morning Cloud – Oct 2015
---
      
From our guests on Silver Moon – Sep 2015
---
Crossing the aqueduct, lakeside moorings at Ellesmere and Hack Green locks.
Kath, Peter and Captain Rockledockle
---
Thanks for the use of Silver Moon. We really enjoyed our holiday on her, despite the typical Bank Holiday weather lasting all week.
Paul and Tonia
---
May I take this opportunity to say 'Thank You' for making Tonia and myself most welcome yesterday on the Narrowboat Experience Course. Both of us having hired boats in the past, you were able to refresh our skills and add considerably to them. We appreciated that you conducted the course in a very friendly and professional manner and your extensive knowledge and experience was very evident. We both feel much more confident and cannot wait to embark on our new shared ownership boat. We would recommend you to all and wish you every success in the future.
Malcolm, Celia, Amy and Jen
---
Just to say thanks a million for such a nice holiday – we had to dash off before thanking you properly because one of our daughters needed to get home ASAP. We think you are the best and nicest hireboat company that we have had the pleasure of using. Thanks also for the wine that you left for us – it was delicious.
Michael
---
Hi Linda,
Finally made it back to Dubai and I absolute wish i was still on the boat! I just wanted to email you to say that myself and Russ absolutely enjoyed the trip. Summer Breeze was a fantastic little boat both inside and out.
The level of comfort we felt inside was up there with the best and ensured we got good night's sleep every night. Very clean and well maintained. This would not have been possible without the dedication from you or Mark to make sure your boats are the best they can be. The friendliness from you both has been refreshing. We would definitely recommend Cheshire Cat to anyone who wants to go boating in that area as I know that will be happy with the boat and service.
Furthermore, I would not hesitate to hire from you again, if you'll have me! Again, a huge thanks to you both and hopefully will see you again soon enough.
Follow this Facebook link to see their 157 holiday photos!
The Shah Family
---
Thank you Linda for our wonderful holiday aboard the Silver Moon. We took the boat for a week and had a fantastic time. The boat was very comfortable, and easy to manoeuvre. Our route up to Anderton and onto the Weaver was absolutely gorgeous. We will be back!
The Bickerstaffs
---
Christine (Moss)
---
Many thanks for a fantastic holiday. We were so lucky with the weather, apparently it has rained all week here in Ashbourne. Made the aqueduct, another dream come true.
Chris Knight
---
I would just like to say how much we enjoyed our holiday on your boat Silver Moon last week. The boat was well equipped and with lots of welcoming touches such as the tea, coffee and bowl of fruit. The fact that we had very good weather as well was just a bonus. We all really enjoyed it and would like to come back and do it again. Thank you very much and we will recommend you to our friends.
Elaine and Bill (Australia)
---
We just wanted to thank you for allowing us the opportunity and incredible time we spent on Silver Moon in early Sept. And also to thank you for all the help you gave us, especially with ferrying our relo's when they joined us along the way, on our journey. The canal boat holiday was something we had dreamed about for so many years and it was everything we thought it would be and more. If we were to do it again, we would definately hire for 2 weeks. Kind regards.
Colleen
---
Just wanted to let you know we all had a fantastic weekend, our friends were all pleasantly surprised and loved the whole adventure, the girls were all lock keepers and the boys were all so keen to drive we were never short of a volunteer.
The choice of first stop "The Badger" was spot on, the food was lovely and staff looked after us like travelling royalty, even thou we were in fancy dress… certainly gave the rest of the diners a giggle, they were very kind and took us back in 2 stages to the boat when the evening was over. On Saturday after travelling to Nantwich and mooring up we walked in to the town, what a lovely quaint place that is, definitely on my places to go again list, anyway I could go on and on , but just wanted to say thank you to you and Mark for your guidance and making it a truly memorable weekend.